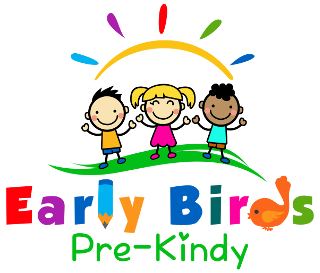 What we do at Early Birds Pre-Kindy
Pre-Kindy is a developmentally appropriate program for children aged 3-4 years to help ease the transition from home to school. We provide a gentle introduction to formal learning experiences by utilising best practice of early childhood education, such as learning through play and real life experiences.
The Early Childhood years are such a marvellous time; a time where developmental milestones are such an integral part of our lifelong learning. It is a fun time full of natural wonder, excitement, curiosity, risk taking, investigating and building skills in positive social interactions. At Early Birds Pre-Kindy we offer a play based program in a semi structured learning environment, one of our main aims being to equip the children with skills that will help them settle into formal schooling.
These are some of the skills that the Pre-Kindy environment will encourage and develop.
Learning to work with teachers and other adults.
Learning to work alone.
Learning to work with a large group of children.
Learning simple rules and routines.
Learning to complete a task or activity.
Learning to question and answer.
Learning to select and choose.
Learning to be independent but not afraid to ask for help.
Tell me and I forget, teach me and I may remember, involve me and I learn.
Benjamin Franklin
Our educational philosophy at Early Birds Pre-Kindy is based on the principles, practices and outcomes of the National Early Years Learning Framework (EYLF). We believe in offering all children play based experiences and activities in a structured and nurturing environment. As outlined by the EYLF we aim to extend and enrich each individual child's learning and development.
The role of the Teacher at Early Birds Pre-Kindy is to be a facilitator of children's learning and development. Using children's interests and needs the Teacher will scaffold the children to extend on their knowledge in accordance with the developmental domains of physical development, social development, emotional development, cognitive development, and Language/literacy development. The Teacher's program incorporates many different learning styles including collaborative group work, individual tasks and many types of hands on learning.
Our objective is that all children will feel safe, secure and part of our Pre-Kindy family, we believe once children have this strong sense of security they will be able to absorb information, create, invent, construct, dramatise, experiment, master new skills, problem solve, share knowledge and expand on curiosity. We believe the Pre-Kindy environment is helping to build a strong foundation for lifelong learning.
All sessions are staffed by the qualified Early Childhood Teacher and Teacher Assistant.
All staff hold current National Police clearances and Working With Children checks.
All staff hold current First Aid certificates.
All staff are required to attend regular Professional Development training.
Miss Michelle is the Director of Early Birds Pre-Kindy. Miss Michelle is also the Certified Supervisor of Early Birds Pre-Kindy and Teacher (Educational Leader). Her qualifications include Diploma of Children's Services (0-5yrs) and Bachelor of Early Childhood Education, completed at Edith Cowan University. Miss Michelle has over 17 years experience teaching in the Early Childhood sector from primary schools to the Pre-Kindy environment. Miss Michelle is a registered Teacher with the Teacher Registration Board of Western Australia (TRBWA). Miss Michelle established Early Birds in 2014 and it has been a fulfilling and exiting ride since then. As a mum herself, Miss Michelle knows first-hand the importance of the lasting effects that positive experiences in the Early Years can have on all children's development.
Miss Elaine is the Teacher's Assistant (Educator). Miss Elaine holds a Certificate III in Early Childhood Education & Care and has a wealth of experience in the Early Childhood sector. As a Mum herself Miss Elaine also values the importance of a quality Pre-Kindy program.
Early Birds Pre-Kindy would like to acknowledge the traditional custodians of this land on which we gather, the Whadjuk Noongar people. We remember the children and families who lived, played and walked on this land. We would also like to pay our respects to Elders past, present and emerging, and extend that respect to other Aboriginal and Torres Strait Islander people.